About the site
Our goal is to tell you all about the plastic soup. In this site, we show what scientists have already discovered about plastic in the ocean, but also what we still have to learn. Because we still don't know near enough about it. The problem of plastic soup is extremely complicated. In order to solve it, we'll all have to make a contribution: scientists, governments, but also you and I.
Is everything I hear true?
Via the media and the Internet you can hear all sorts of things that simply aren't true about plastic soup. For example, we don't know whether there will be more plastic than fish in the ocean by 2050. Always try to think about whether the information you read or hear about plastic soup is true or not. And when in doubt, you can always look it up on this website.
Help make our ocean plastic-free
Scientists aren't the only people trying to solve the problem of plastic waste by conducting research. There are also local activities people can do to reduce plastic pollution. And the more help they can get, the better! Because there's still a lot to do before we once again have a plastic-free ocean. Anything you can do to help would be welcome. Do you have ideas on how to reduce the use of plastic in your environment? Or would you like to do that, but don't know how? If so, read this page and see how you can contribute to making our ocean plastic-free.
More interesting info…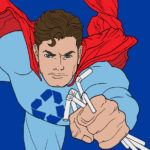 What you can do
Did you know... you too can contribute to a plastic-free ocean.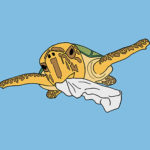 Plastic diet
Did you know... There is plastic in one out of every four fish sold at markets in the US and Indonesia.