Copyright
All images on this website were created by illustrator Aike Vonk on commission of Utrecht University. Every image is therefore copyrighted. It is allowed to use images on condition that you adhere to the conditions below.
Credits are compulsory
When you want to use an image from this website, the name of the illustrator [Aike Vonk] should be mentioned, together with the domain name of the website [https://plasticsoep.sites.uu.nl].
Altering images is not allowed
It is not allowed to alter the images by changing colour, design or subject. Minor editing is allowed, as long as the signature of the illustrator remains visible.
Conditions when publishing images
printing the name of the illustrator is compulsory;
the website should be credited as source next to the image or in the colophon;
publishing of images is only allowed after consultation and with permission of the illustrator.
Unauthorized use of images in the context of copyright is the responsibility of the publishing party.
Questions?
For questions about the use of images, please contact illustrator Aike Vonk.
More interesting info…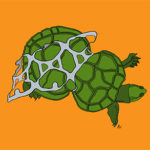 Animal suffering
Did you know... 100% of all sea turtles have plastic in their stomachs.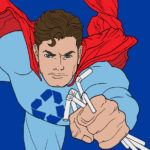 What you can do
Did you know... You too can contribute to a plastic-free ocean.